Hub
The Qmatic Hub is installed in the local branches and communicates with the central Orchestra server and all the Qmatic hardware at the local site, for example printers and displays.
Hub works as a gateway for all Qmatic hardware in the branch and channel all communication through one point, Hub. Hub supports multiple functions in one device, is prepared for wireless connectivity and has a range of accessories to adapt the product to your client's needs.
Please note that Hub is built with a new, low-power CPU technology. The performance is similar to the Branch Hub but not in every detail exactly the same as at the previous Intel based solution. You may therefore experience different performance characteristics compared to Branch Hub, so please test and verify your configuration before deployment.
About
About
Note: Hub only supports Orchestra R5 and later. If you are using Orchestra R4, please check out the product Branch Hub Basic instead.
Hub is built on the Qmatic Embedded Platform – QEP – and has been developed and manufactured by Qmatic. The common platform is designed for a range of future products and has the power, flexibility and quality to meet our future needs.
Hub is a hardware platform with software options to enable features for specific functions, making it both a flexible and cost-effective solution. The separation of the hardware and software components makes it possible to decide what function Hub will provide at a late stage. It also comes with a range of accessories, such as mounts and locks to allow for flexible installation options. It is prepared for future software and hardware options and accessories to make it even more flexible.
Hub is a dynamic carrier for intelligent software and provides secure communication, multiple communication ports, can be installed standalone or in a rack, and is prepared for Wifi and wireless communication.
The functions within Hub are controlled by licenses. There are currently one base license and two license options:
Hub Base:
Mandatory software base license. This is needed to enable the s/w options for technical reasons. And this license is added automatically when ordering the software options.
Network Gateway Option:
The Network Gateway license option in Hub isolates the Qmatic equipment on a separate LAN. The Qmatic LAN and the client's WAN are kept separate with the help of a firewall.
Hub has a built-in 1745 connector, so a separate Qmatic Interface RS232 – 1745 is not needed.
Wan/Lan to 1745 gateway
Connects Qmatic hardware with Orchestra
Replaces the function in the Branch Hub Basic
Distributed Logic Node
One of the most valuable and unique Orchestra features is the Distributed Operation mode supported by the Distributed Logic Node license options. This means that a branch with Distributed operation can continue to work even if the network connection to the server is bad or even down. Should network problems occur then Orchestra with distributed operation will continue to work for at least 24 hours. When the connection is re-established all data and configuration is synchronized with the server.
Queue engine running locally
Fault tolerant
Distributed load management
Replaces the function in the Branc Hub
Hub Media
Hub Media makes Hub into a Media player to be used with Orchestra or Solo systems. It will over time replace the Cinematic. The media / message is still designed in Orchestra or Solo but now you can use Hub as the player, just add on the Media license and it is ready to go.
When used with Orchestra it can also do double duty*, meaning it can be the media player and the box running the system locally (Network Gateway and Distributed Logic Node licenses applied as well). Less boxes, same function as before.
Please note that firmware version 130.4.2.5 or later needs to be installed to use Media option. You will find latest firmware for download at the Firmware tab.
As from firmware version 130.4.3.2 we have added Announcements to Hub Media. Using the same media files and configuration as Choral our Hub can now to announcements using the TV (speakers) it is connected to. Very useful when waiting area isn't too big and the TV speakers are loud enough.
Note: This functionality is only available for Orchestra! For Solo, Choral should be used.
*Please note that Hub units made before May 2016 can be used as Media player or Distributed Logic Node. Units made as from May 2016 and onwards can do double duty and run both functions at the same time.
Accessories:
VESA Mount to install Hub behind a monitor or TV
Cable Lock to prevent access to the network and USB ports in a public environment
19" Rack Mount to place Hub in a standard rack

Articles and license:

Licenses will be ordered (and used) in the same way as for Solo thru the Qmatic Marketplace. The licenses are stored on an internal SD memory card (MyQmatic SD) that comes pre-installed with each Hub.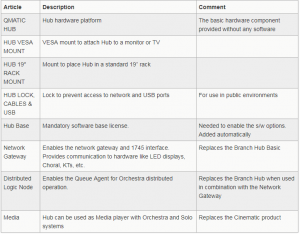 The software options are not covered by the Qmatic Care program. The hardware is covered under the Qmatic standard warranty program.
The following articles and licenses are used when replacing the functionality provided by the Branch Hub and the Branch Hub Basic:

Note: Hub has a built-in 1745 connector, so a separate Qmatic Interface RS232 – 1745 is not needed for the Hub.
[collapse]